Village Haunt's SPIDER~WIPER building How-To.

We present many ideas here on VillageHaunt.com. Many of these ideas involve potentially dangerous project building and using tools that may have their own unique hazards as well. While we do hope you enjoy your reading about these interesting projects and activities, Tracy Murphy of VillageHaunt.com assumes no responsibility for any damages/injuries following these instructions may cause you or others of any kind. If you choose to use products in a way that the manufacturer didn't intend for it to be used as shown herein, you alone take full responsibility for any damages you may sustain. Many of our projects here require very hazardous tools and applications of tools that the novice or even the professional may not be able to use without some level of bodily/property damage.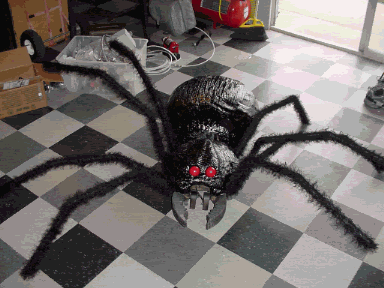 This is the first prop I ever made using a WINDSHEILD WIPER MOTOR. This is also the first Spider Prop I have ever made. Hopefully these instructions will help others to advance their Home Haunts.Please use these plans, but don't forget to link my site (www.villagehaunt.com) as the original Wiper~Motor Spider. July 3rd 2006. Questions? village_haunt@yahoo.com
BEHIND THE SCENES VIDEO >>>

<<<< Assembly video Tear-down video >>>>
<<<< Programming video Part 1 ............ Part 2 >>>>
---
Part 1 The New Idea?
Here we go... Halloween 2006 is coming up quick! So I better get rollin'
This year I wanted to add a GIANT SPIDER to my Home-Haunt.
I started this project 07/03/2006.
I was inspired by this Flying Crank Ghost style spider seen on the Creep Crafter site.
I started with this little rubber spider as my model
Here is my start, a FREE wiper motor from an 86 Suburu and some hardware from ACE.
Here is the Wiper and basic wheel assembly together.
I used a thick piece of of plywood as my base, and I fit the wiper motor in so that it would sit low profile.
Here is a pic of the wiper/wheel assembly mounted to the wood base.
Next I spaced and mounted 10 hinges to the base.
Then I welded 10 small wheels to the hinges.
I used a tiny bungee band around the 10 hinges to force them back to their upright positions.
Here is a small 1.3MB video clip of the mechanical heart running through 4 speeds.
IT IS QUITE ROBUST!!!!
Part 2 The Bad Idea
*Do not follow instructions in Part 2 (see revised instructions in Part 3)
I started this part on July 07, 2006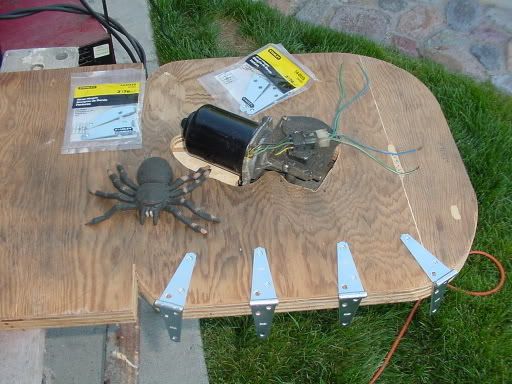 I added more hinges around the outside*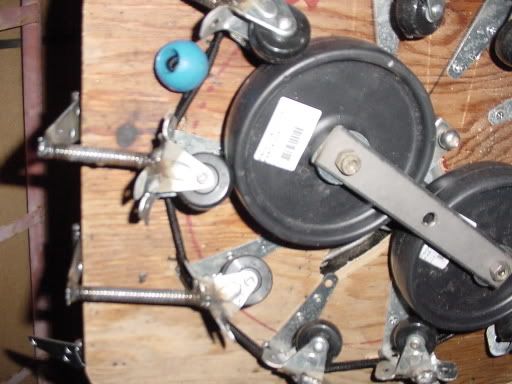 Then I chopped pieces off of my 3/8 plumbing snake and used them as flexable push rods*
Here is a little video clip of the Spider running with push rods*
*Do not follow instructions in Part 2 (see revised instructions in Part 3)
Part 3 Revision B
Today ( 07/08/2006) I tore down and rebuilt.

What a mess! As you can see, the Spider is DEAD...
First, I got the saw out and put this thing on a diet!
Then, I mounted all the rockers back into new positions.
Next, I mounted and test the CAM. (see picture, as it is a video link)
I welded on some metal elbows to receive the PVC legs.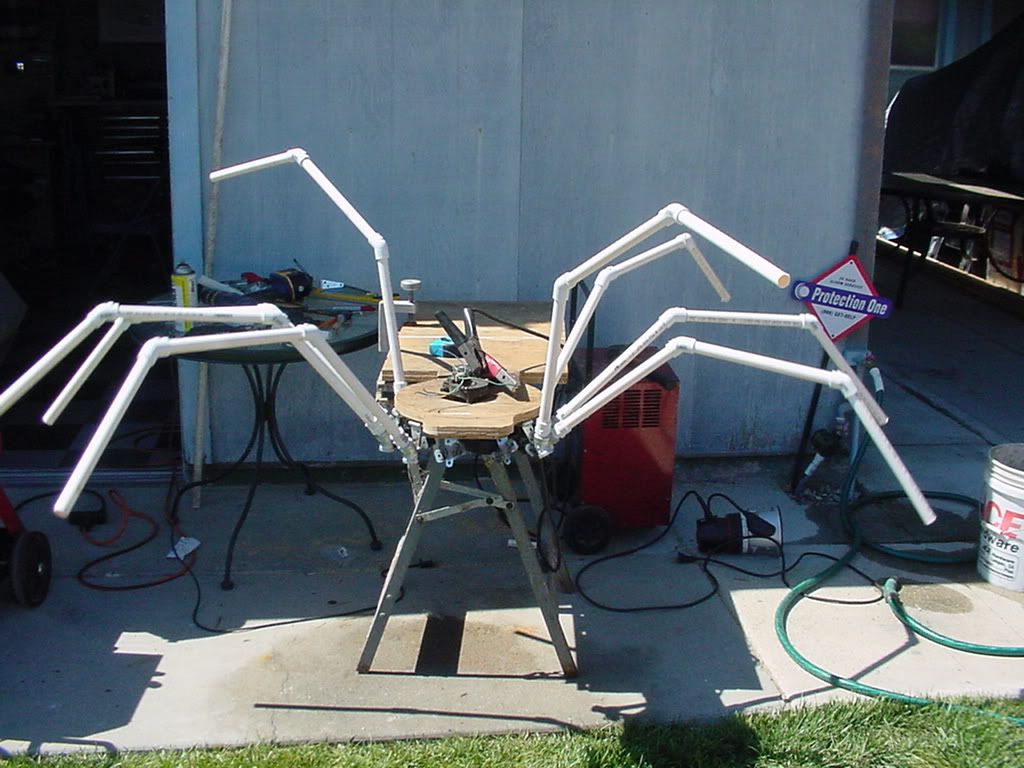 Then I put on the PVC legs. Made from 3 one foot pieces of PVC and two 45 degree elbows.
Here is SpiderWiper hard at work.... (see picture, as it is a video link)
Part 4 The Pivot
July 14th, 2006
OK, so I got the jig saw out and cut off the HEAD!
TAKE THAT YOU DIRTY OLD SPIDER!!!
Next I installed a fatty hinge...
I welded up a heavy duty linkage plate.
Then I slapped together a BIMBA cylinder with ball/hinge mount.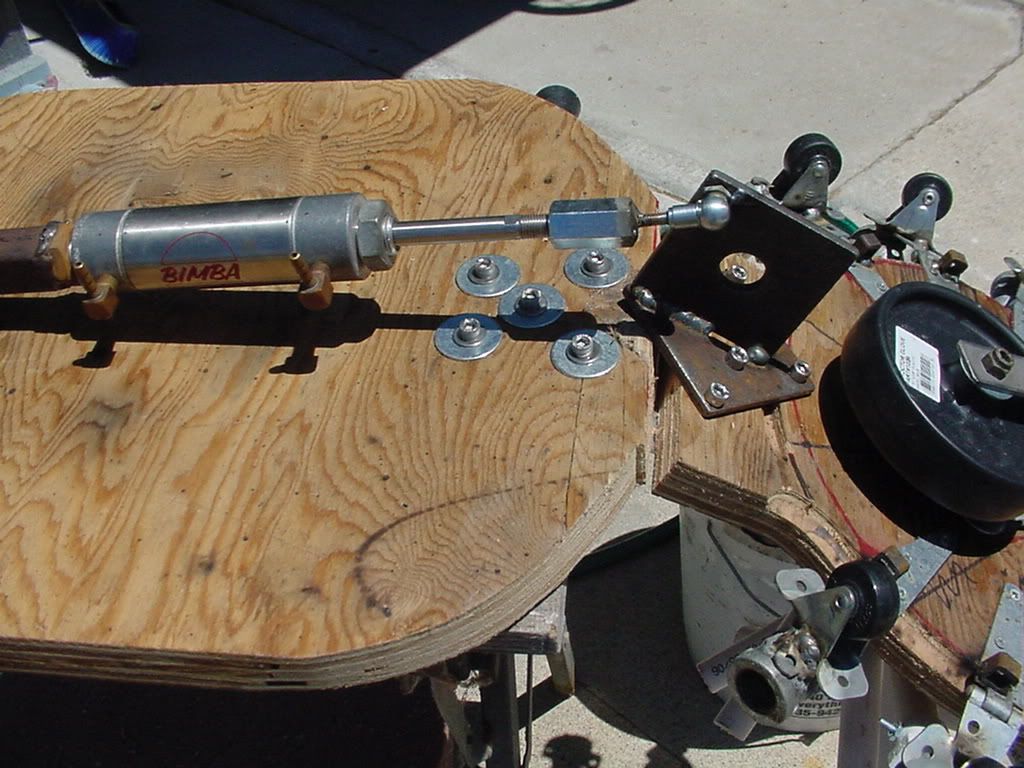 AHH!!! a fine close-up shot...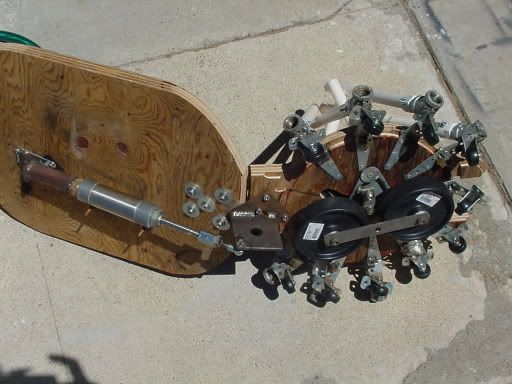 Here is the Spider~Wiper at full pivot.
Then I put some stops onto the leg linkage.
Then I threw on some FANGS!
HERE IT IS IN ACTION...
I still have a long way to go.....
Part 5 Jaws
July 16th, 2006
I traced out the jaw on paper... Mmmm, looks good to me.
Then I cut mine out of 1/4" plywood.
A QUICK TEST FIT.... YEAH, Daddy like...
A simple screw mount, works for me...
OK, All mounted up...So what did you call me?
Here is a FAT close-up of the mini cylinder and linkage. I am running two of the little guys at 20 psi.
PLACE YOUR HEAD HERE
Part 6 Frame & Spit
July 29, 2006
I made this nice little rolling steel frame to support the spider.
(Yes, I did burn myself with the mig
)
What a mess! Wiring and hoses everywhere.
Here is a tiny video of the JAWS and VENOM spitter. (1.3MB )
Here is my spitter tank. No I did not steal it from the kitchen!
This baby is from the dollar store.
I epoxied a water pick up tube into the bottom.
Ahhh... now were talking. Water tank is mounted.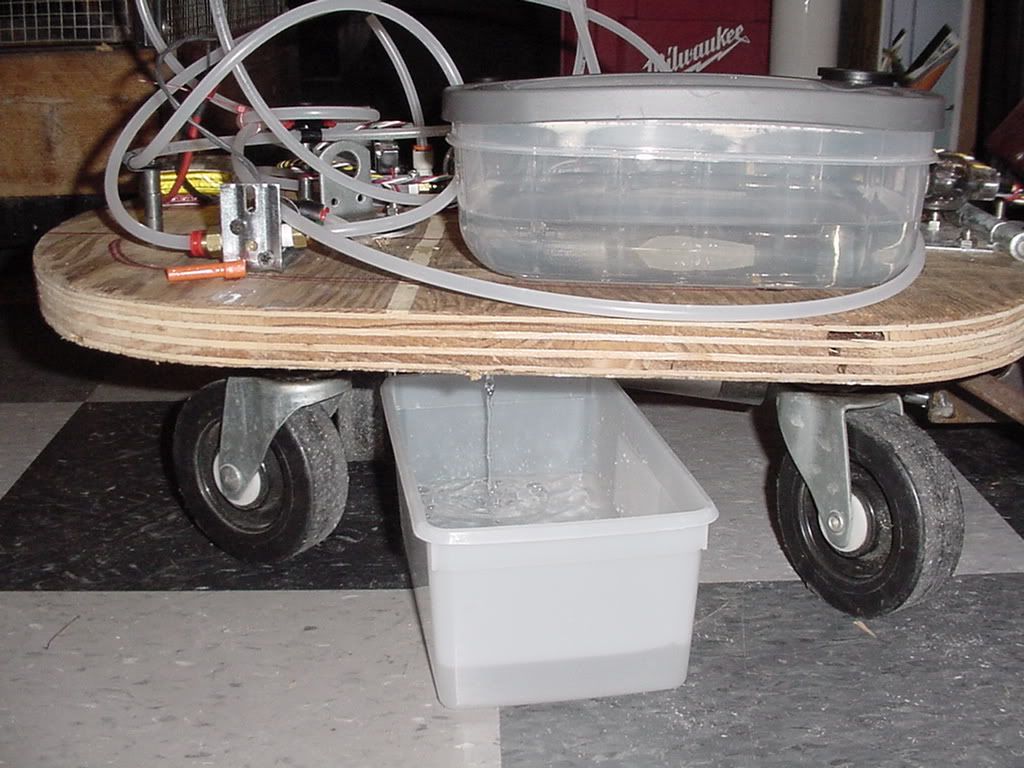 I even put a drain in the system to make maintenance and storage.
Here is the video test of the main co
mpo
nents working together. (small 2.0MB file)
Water tank should supply about 1 running hour of spit!
No, I did not properly cover my camera.
Part 7 The Spider Body
August 05, 2006
I started with FREE foam (recycled from work) and a really sweet foam cutting tool
I started with cutting out the foam for the head. I glued layer upon layer to build up the height.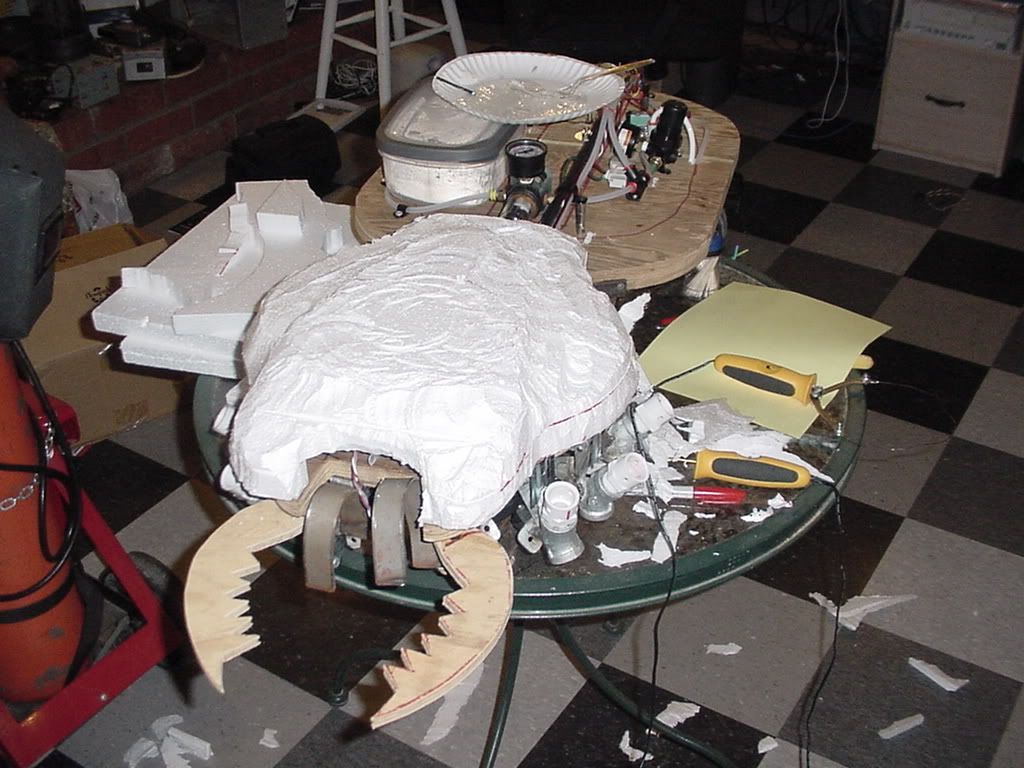 Then I shaped it with the Freehand Router tool from foam factory.
Foam, foam, foam, every where, foam... cut glue, and repeat...
I tried to use the glass from some light bulbs, but that didn't fly.
Here we go... light bulb + dimond saw = Crap.
(But you already knew that, didn't you) Center pic is a video link of the attempt.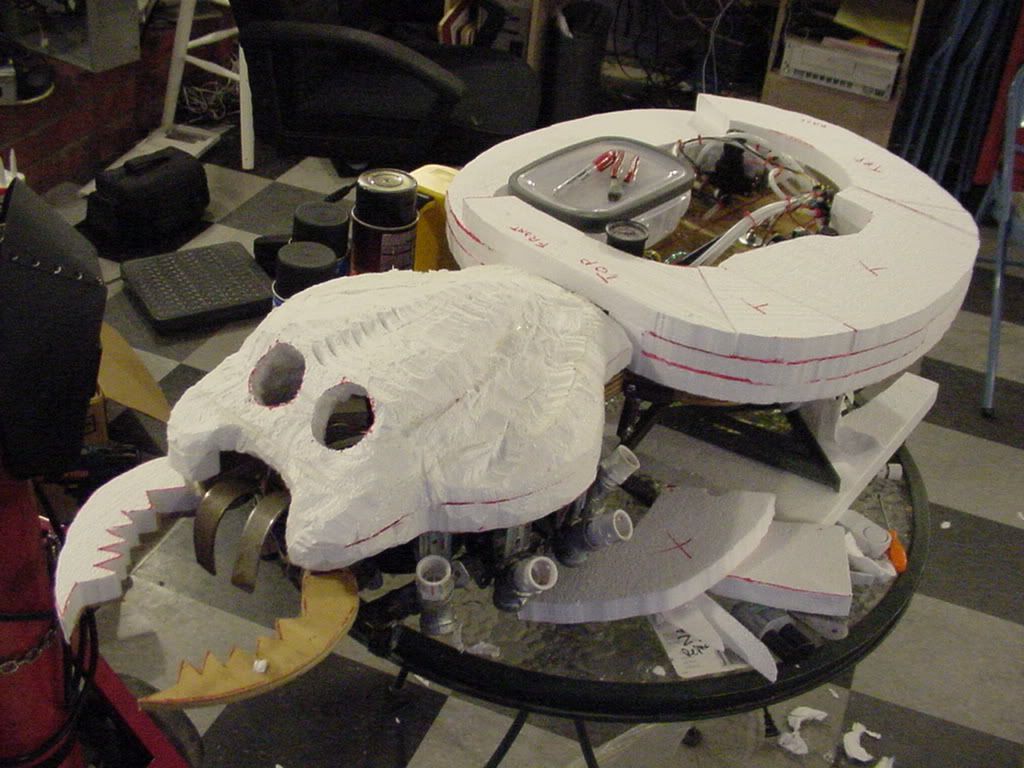 OK, I really got to take a break now....
Break over... back to work.
After stacking and gluing layer upon layer, upon layer... I started to carve it. (FUN STUFF)
Still carving...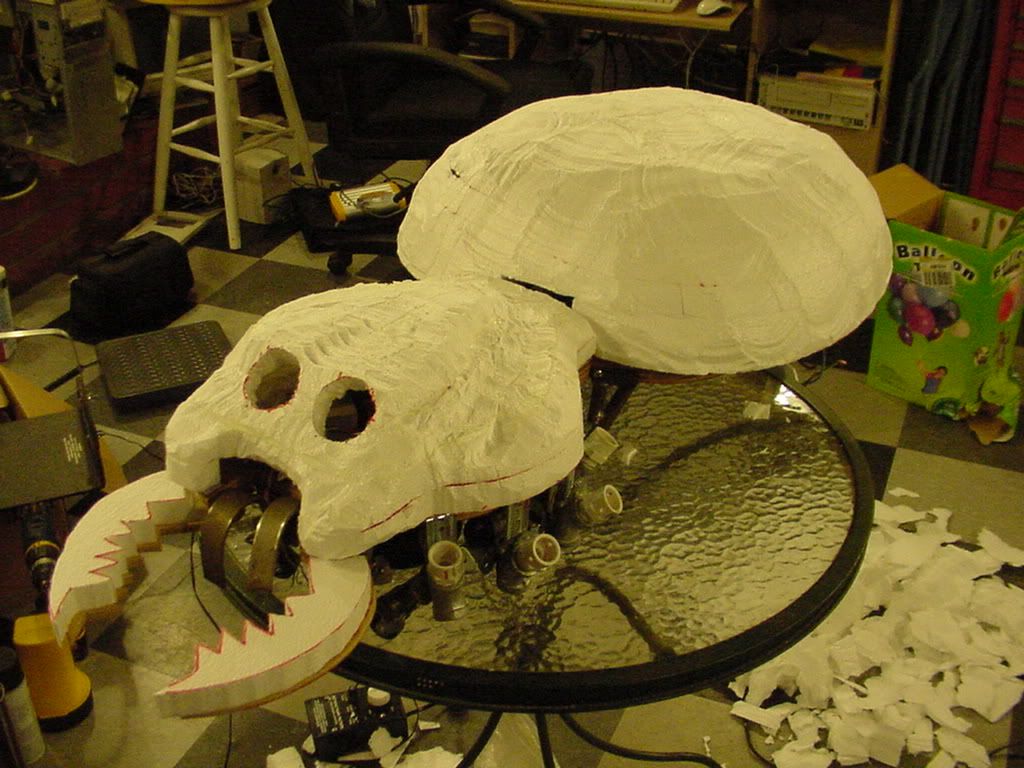 As you can see... I am making a HUGE MESS in VH central! Well at least it's rounded out.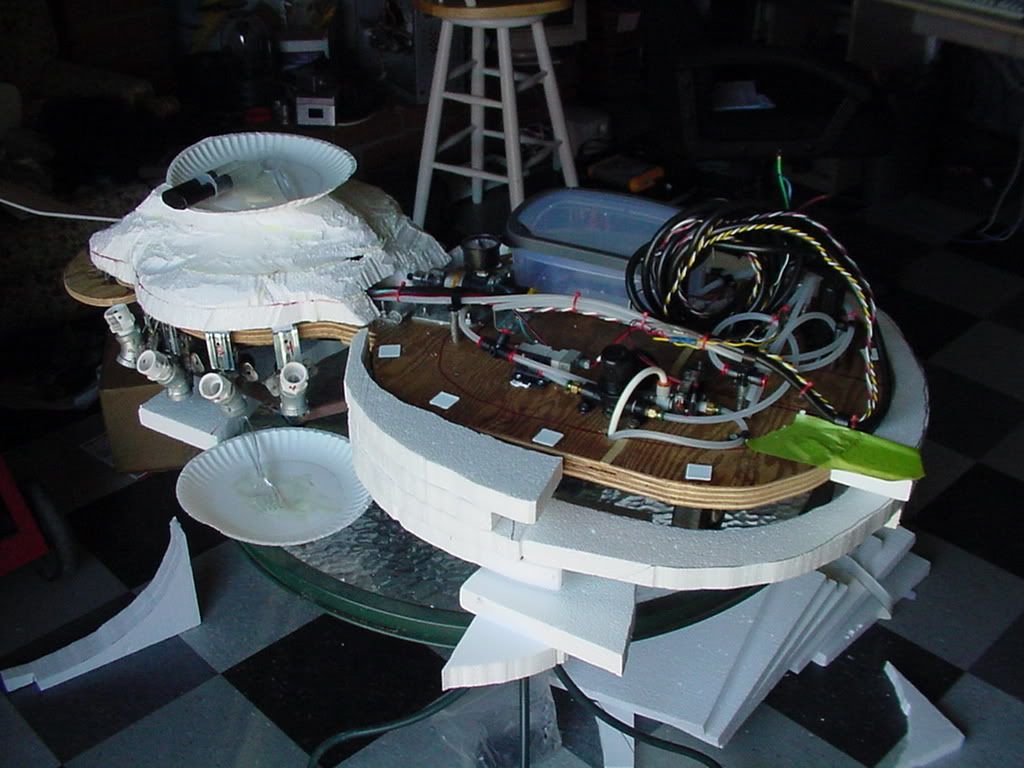 Next I worked on the Sub-Body. Gluing and stacking, stacking and gluing!
Here is picture showing the rough Sub-Body on the carved body. notice the inner cut-outs.
This body goes on and off in a flash and is held down with simple Velcro.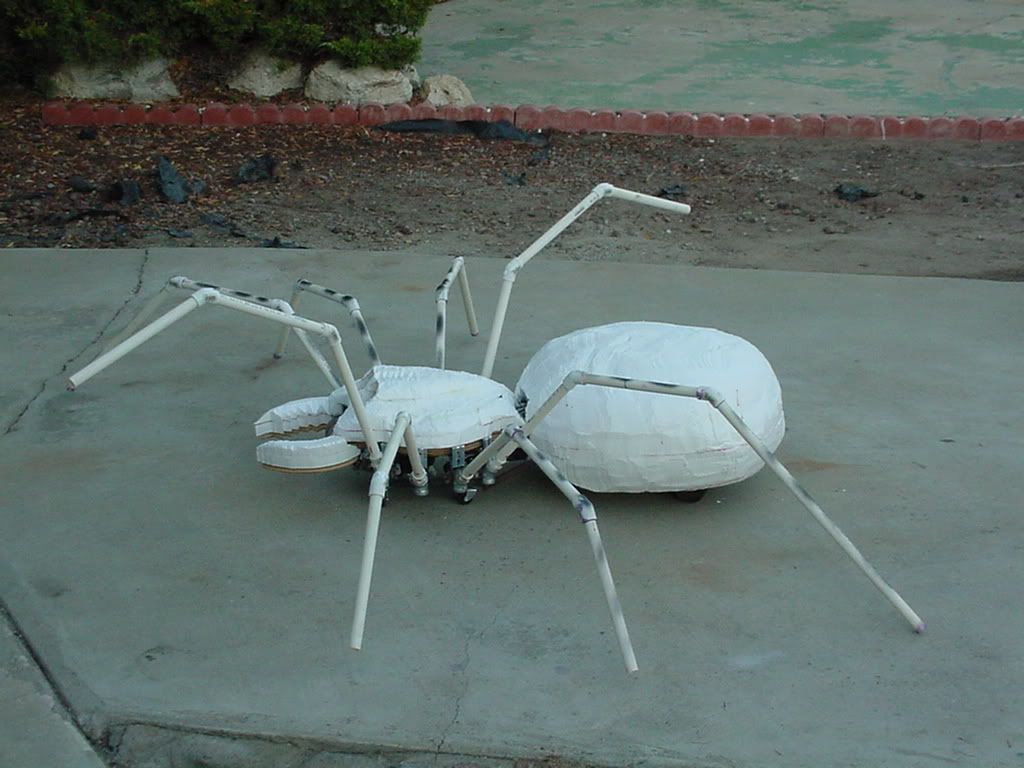 Here is the rough body over-view. I still have a long way to go...
Part 8 Nothing But Leg
(August 16, 2006)
I think I am done with the stupid legs.
I started with three 1 foot sections of schedule 40 1/2 PVC pipe.
I joined them together with 45* couplings.
Each leg was secured with a single bolt.
I also glued end caps on the leg tips.
I thought it look pretty good, but when I tested it...
I found the legs were over-weight and causing excessive strain on the motor.
Also, the end caps made a stupid tap dancing noise!
I thought perhaps I would just throw glitter all over it and place a big top hat on it's head.
Yeah your right
that does sound a little happy
I wouldn't do any stupid crap like that! What were you thinking!
WHERE IS MY SAW AT?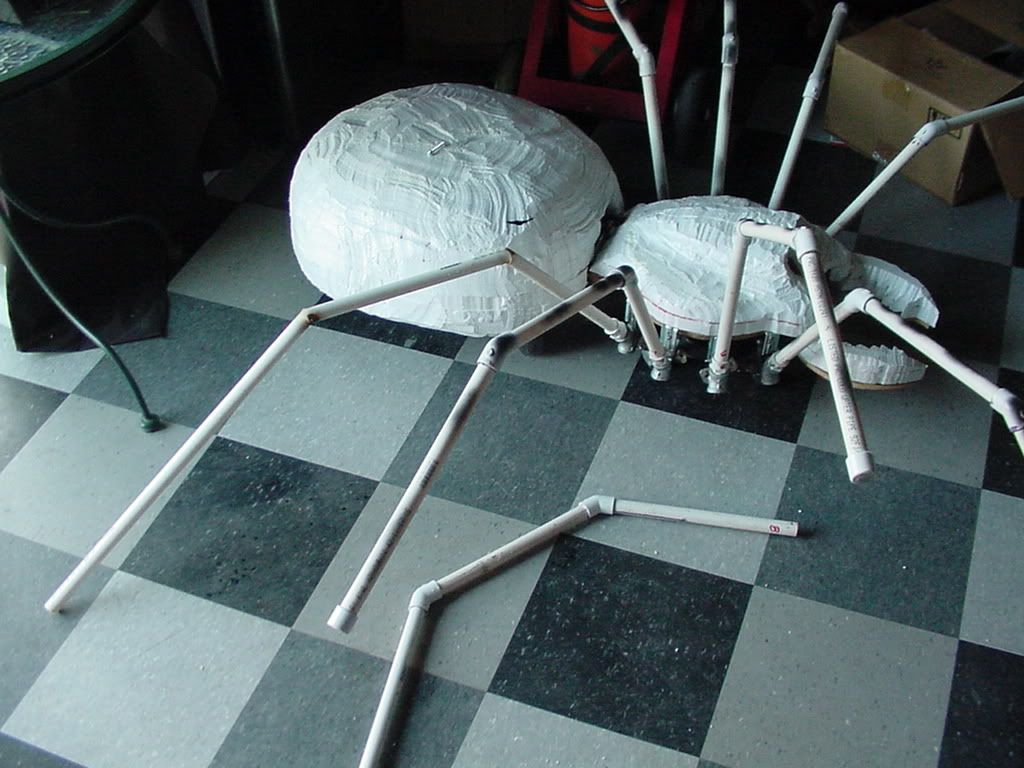 Your going down buddy! TAKE THAT!!!
BACK TO THE HARDWARE STORE...
TO PICK UP MORE SUPPLIES.
Starting over...
This time I'm using schedule 20 (thin wall) PVC to save on weight.
Then I simply heated and bent the legs instead of adding the 45* couplings to save even more weight.
I know it looks like crap now, I got eyes too
you know...
Seriously, although it is uglier, it is also lighter and strong enough to run better all night.
It's gonna get covered... Relax!
My lovely and supportive wife is hand making the kick @$$ leg covers from special hairy yarn.
She worked on the 8 leg covers for over a week!
Many times she had to stop because her hands hurt.
MAN I AM A LUCKY GUY!!!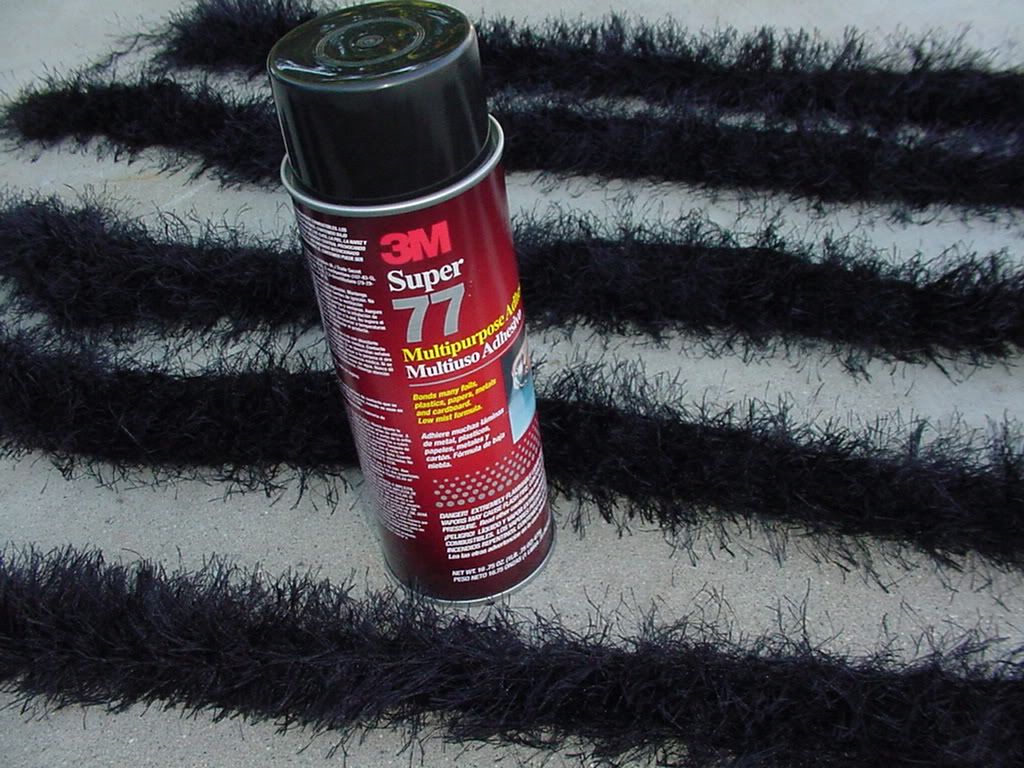 I glued them puppies on with a little help from my friend 3M.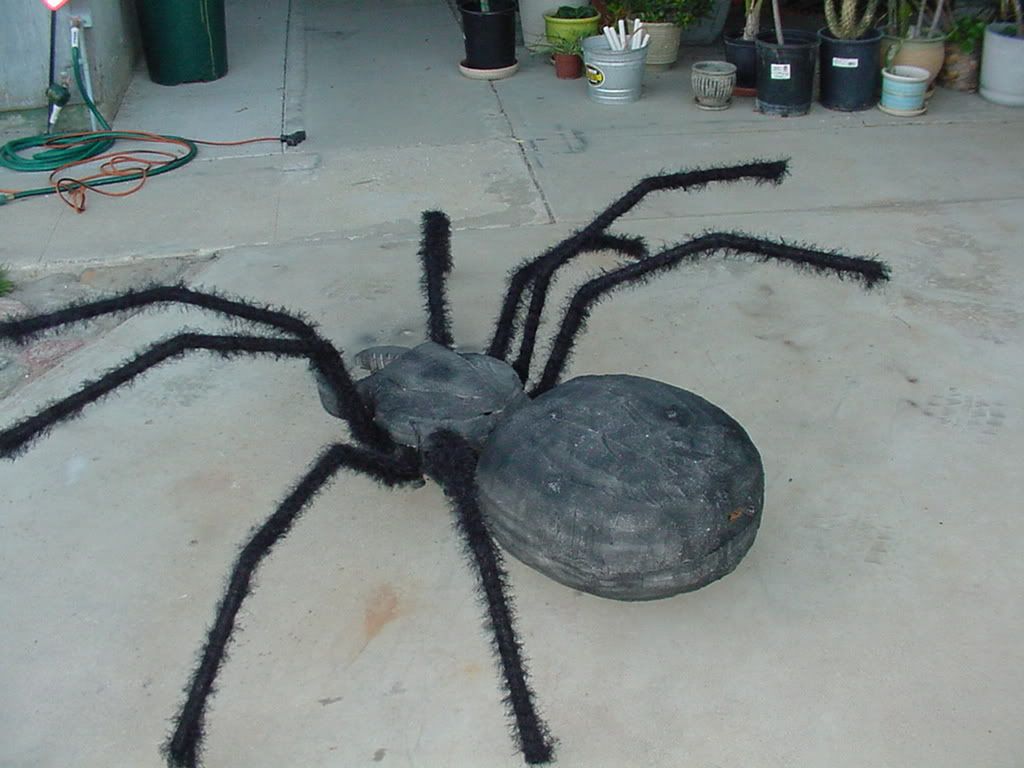 I STILL HAVE A LONG, LONG WAY TO GO......
So what do think...
Should I make the body SMOOTH or should I make the whole thing HAIRY like the legs???
Part 9 Body Work
(August 19, 2006)
I just wanted to say thanks to the people who wrote in with their suggestions.
(
Doktor, StonyPath, Rob and Colleen)
Your input has helped to shape this design.
We will be going with a shiny/smooth cephalothorax and a very hairy abdomen.
We are also using blown plastic packaging material for the eyes.
First I coated the foam with Alex Plus latex caulk (DAP).
I then spread the latex evenly over the entire external shells.
I cut out the eyes from the blown packaging material that came with some light bulbs.
After a test fit, I painted them red.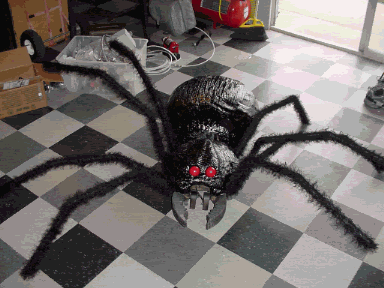 I painted the body with gloss black paint.
My wife will be making the hairy abdomen body cover.
I still need to finish the Jaws, Light-up Eyes, Sound FX, Simple Drive, and Control Module.
Part 10 Simple Drive REV-A
(August 24, 2006)
*Do not follow instructions in Part 2 (see revised instructions in Part 11)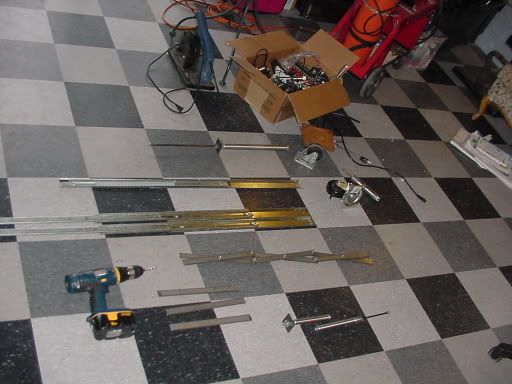 *I don't know how, but I know it's gonna take some metal.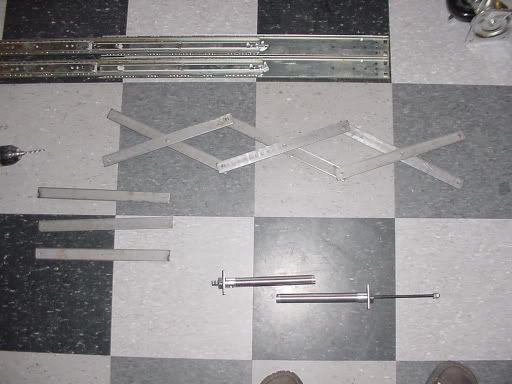 *I layed it all out and sat and thought... (for a really long time)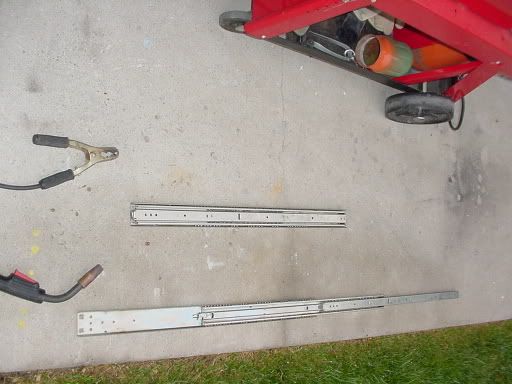 *I thought I would weld two draw slides together.
*Like so...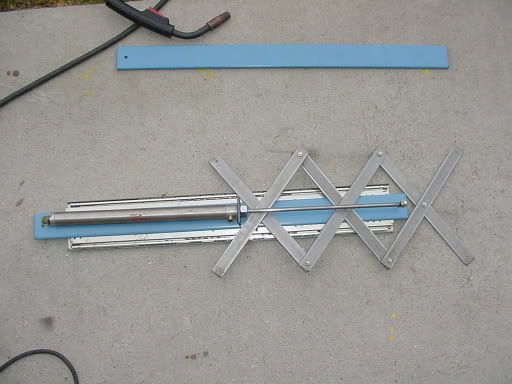 *Then I mounted my 14 inch Bimba cylinder.
*Oh it looks so nice!
*Here is a picture of it fully extended.
This is the last you will see of this design, as it is now at the landfill. My big mistake was the pneumatic travel exceeded the draw slide travel. After a couple cycles, there was ball bearings flying everywhere.
*Do not follow instructions in Part 2 (see revised instructions in Part 11)
Part 11 Simple Drive REV-B
(August 25, 2006)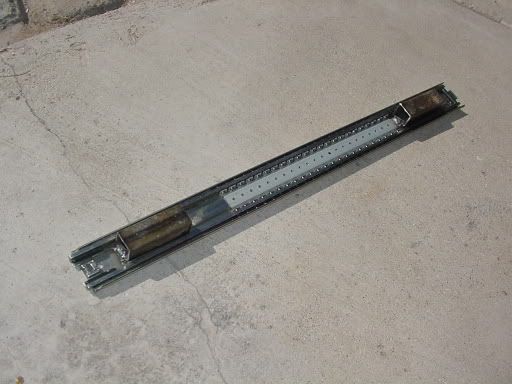 I got three more draw slides, but this time I am going to stack them.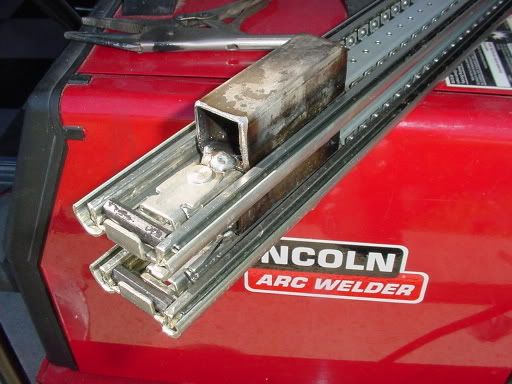 In this picture you can see I fused two slides together... (I think I am on to something)
OK, I jumped ahead a tiny bit. All three draw slides are now stacked and the Bimba cylinder and expansion linkage is mounted.
Oh, by the way, the expansion straps are 12 inches long. Retracted length 2 feet, extended 5 feet.
Here is a little video clip of it in action.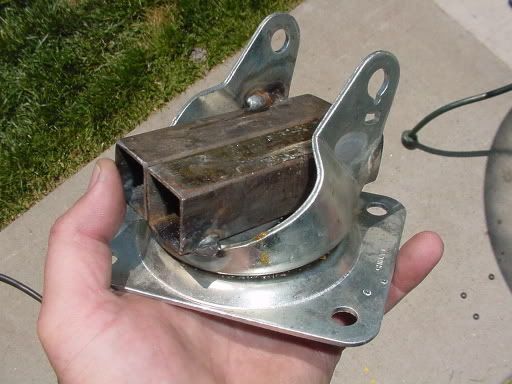 I hacked a large caster to give the Simple Drive the ability to pan left or right.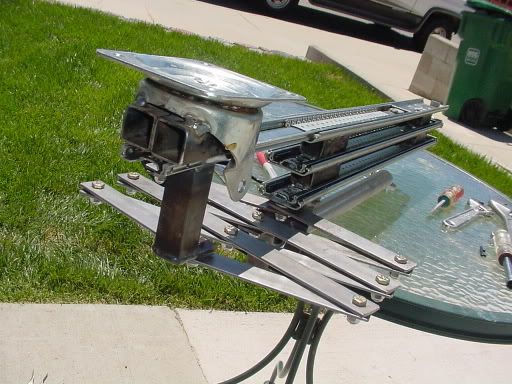 Here it is all welded into place.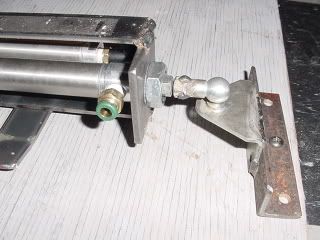 Here is a close-up of the Panning Drive's mount.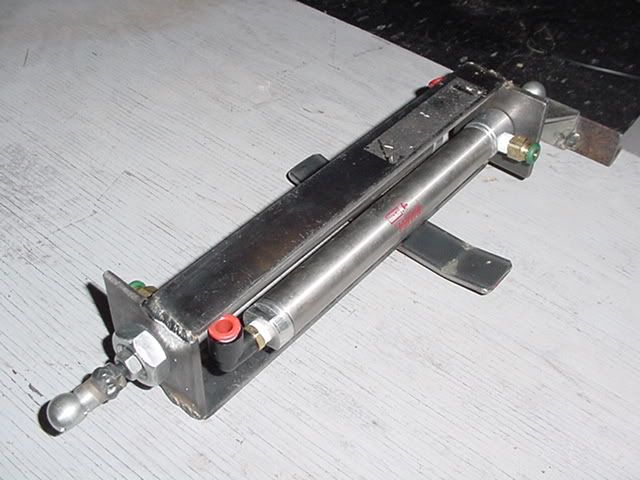 Two opposing cylinders will give me the ability to go from center to left or right and back to center.
Here is a short video animation show this drives future movement ability.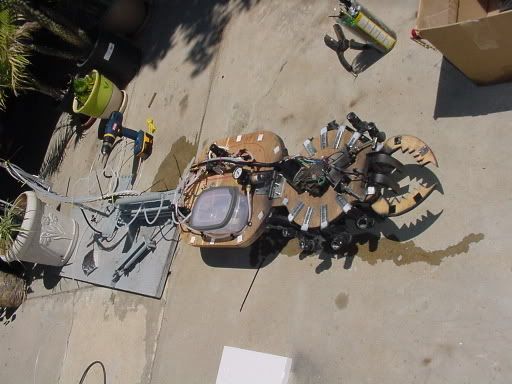 Here is a picture of the Spider~Wiper linked to the Simple Drive.
MAN THIS IS GETTING TO BE A RIDICULOUS PROJECT!!!
Part 12 The Spider Controller
(09/03/2006)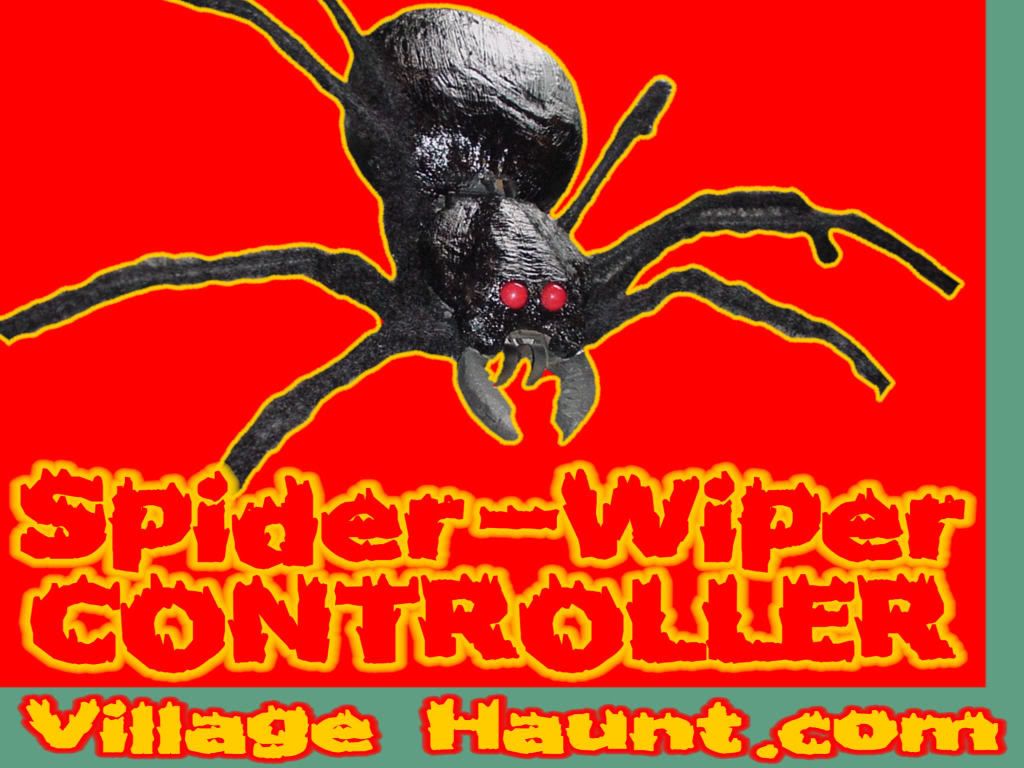 Gotta have a graphic.
The brains to my controller, is the new Key Banger from Sprawling Delusions.
This thing is awesome!
(From the Sprawling Delusions site) The OEM Delusional Key Banger with audio is a six channel prop controller that you use by recording your desired sequence by pressing or banging on the six blue function keys. Once your sequence is recorded the Key Banger will play your recorded sequence whenever the green GO button is pressed or the optional passive infrared motion sensor detects movement. However, if you prefer you can remove a jumper and the Key Banger will continually play your sequence in a loop. 4+ minute record time Comes with wall adapter Outputs are rated at 24 volts DC Max combined current draw of the outputs is ¾ amp Optional PIR Sensor is part number PIR-1
I used a bread board for my 1st stage relay board. I am using six 24v relays.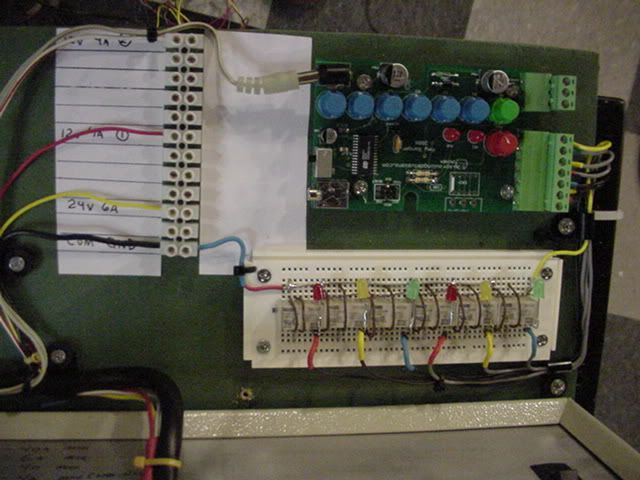 The relay bread board hooked into the Key Banger Module. I added diodes for a little cheap insurance and some LED's to see the relays come on.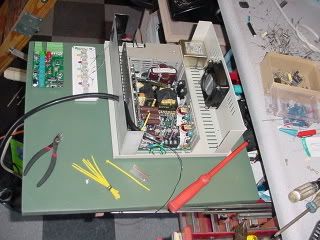 I mounted a BIG power supply on an old piece of wood. Painted green to help keep my sanity.
Here is an overview shot before all the wiring was completed.
Here is a tiny video showing the Key Banger running a program to the relays.
I just got to say the Key Banger is SUPER easy to program and it really KICKS butt in REAL TIME!
NO COMPUTERS NEEDED!
I love the 2 units I own!
Part 13 It's Alive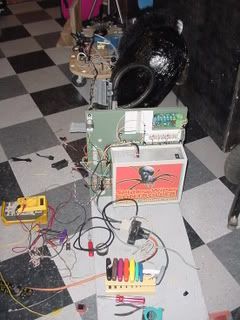 What a mess... but it works.
I added 6 diodes so that the legs circuit will be on whenever any of the 6 Key Banger channels are operating.
Here is my new diode board mounted next to my leg operation relay.
Here are my White LED eyes.
I mounted it to the inside of the head.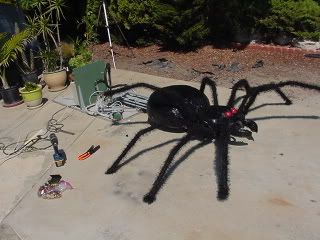 YAHOOO it is almost done!
I don't know where the heck I am going to store this thing!
>>>>CLICK THE VIDEO AND CHECK IT OUT<<<<
It works, but I still have a long way to go before it is done...